Day 1 & 2 Contributors
                                           Day 3 Contributors
                                           Day 4 Contributors
                                           Day 5 Contributors
                                           Day 6 Contributors
                                           Day 7 Contributors
                                           Day 8 Contributors
                                           Day 9 Contributors
                                           Day 10 Contributors
                                           Day 11 Contributors
                                           Day 12 Contributors
                                    Day 13 Muffin Party Contributors
                                           Day 14 Contributors
                                           Day 15 Contributors
                                           Day 16 Contributors
                                           Day 17 Contributors
                                           Day 18 Contributors
                                           Day 19 Contributors
---
::: CALLING ALL BPJ FRIENDS :::

Vous voulez voir notre morceau "Breathe" sortir sur une compile nationale ?? Ça ne vous coutera que 10 secondes de votre temps, en 3 étapes :
Cliquez sur ce lien http://www.lesinrocks.com/backpackjax
Cliquez "Like" (comme indiqué sur l'image)
Partagez, faites tourner au max, on a jusqu'au 15 septembre et chaque vote compte !
Merci pour votre soutien :) On vous prépare un petit cadeau de remerciement, restez connectés !
Les Inrocks Lab & Because Music are putting out their 1st ever "Best of 2012" compilation, and our track "Breathe" is up for consideration ! If you want to help us out in 10 seconds, here's the deal :


Click on this link http://www.lesinrockslab.com/backpackjax
Click "Like", just as shown in this pic
Spread the word by sharing the info BEFORE September 15th !

Every vote counts ! Thanks for helping us out & stay tuned, because we've got some thank you goodies on the way ;)
---
---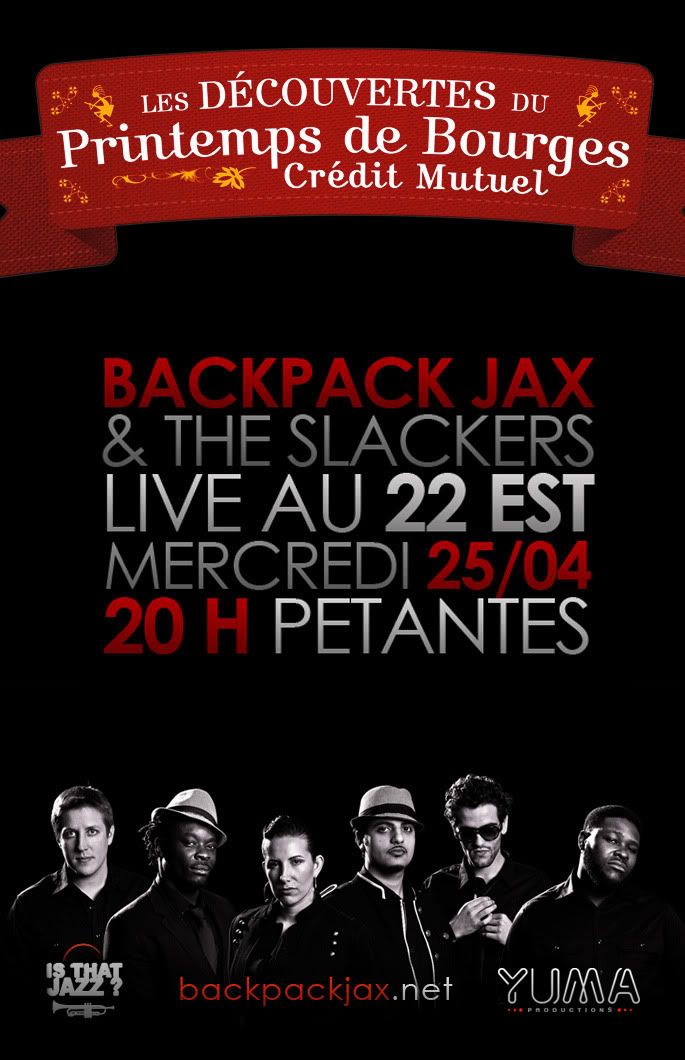 Retrouvez Backpack Jax à Bourges :
Le Rodeo / Le Mouv' - 16h @ La Bulle 
Disquaire Day / Radio France - 17h @ Le Carré d'Auron 
Concert Découverte - 20h @ Le 22 Est
Mais aussi sur : Férarock, Radio Néo, Mega FM, Radio Pays de Guéret
---
---
---
---
Trans Musicales : Focus sur Backpack Jax
---
---
---
---